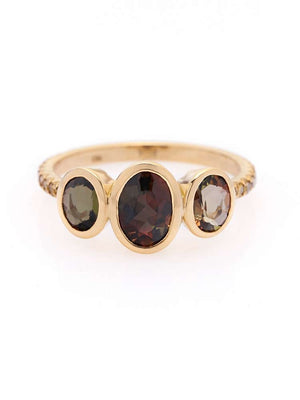 Sarah Michiko, Triple Andalusite Ring
App.1.34 Ct TW Andalusite & .18 Ct. TW Cutdown set Yellow Diamonds, hand set in an 18k Yellow Gold ring. Made by hand in NYC.
On hand in Size 5.5. Please allow up to three weeks for other sizes to be made.

Andalusite, a gorgeous stone known for it's ability to change color like few others, is a very protective stone. This stone is said to help you find a balance between your desires and ambitions. Find out why it is also called "The seeing stone" in a most fashionable way! Hand made in New York by the young second generation jewelry designer Sarah Michiko.