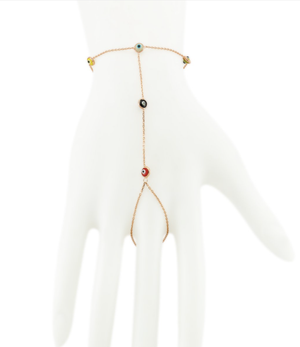 Yaf Sparkle, Evil Eye Handchain
Super Sexy Yaf Sparkle Hand Chain. A gorgeous accessory to underline your feminine beauty. Made by hand. 18K Gold Plated Sterling Silver and Enamel.
7.4 inches / 19 cm in wrist length. 4.5 inches / 11.5 cm wrist to finger length, 1.77 inches / 4.5 cm extension. 0.19 inches / 0.5 cm charm width in multi colored evil eye charms.
Usually ships within 7 business days.